Feel the experience about "ICSI" treatment, technology for resolving infertility problem.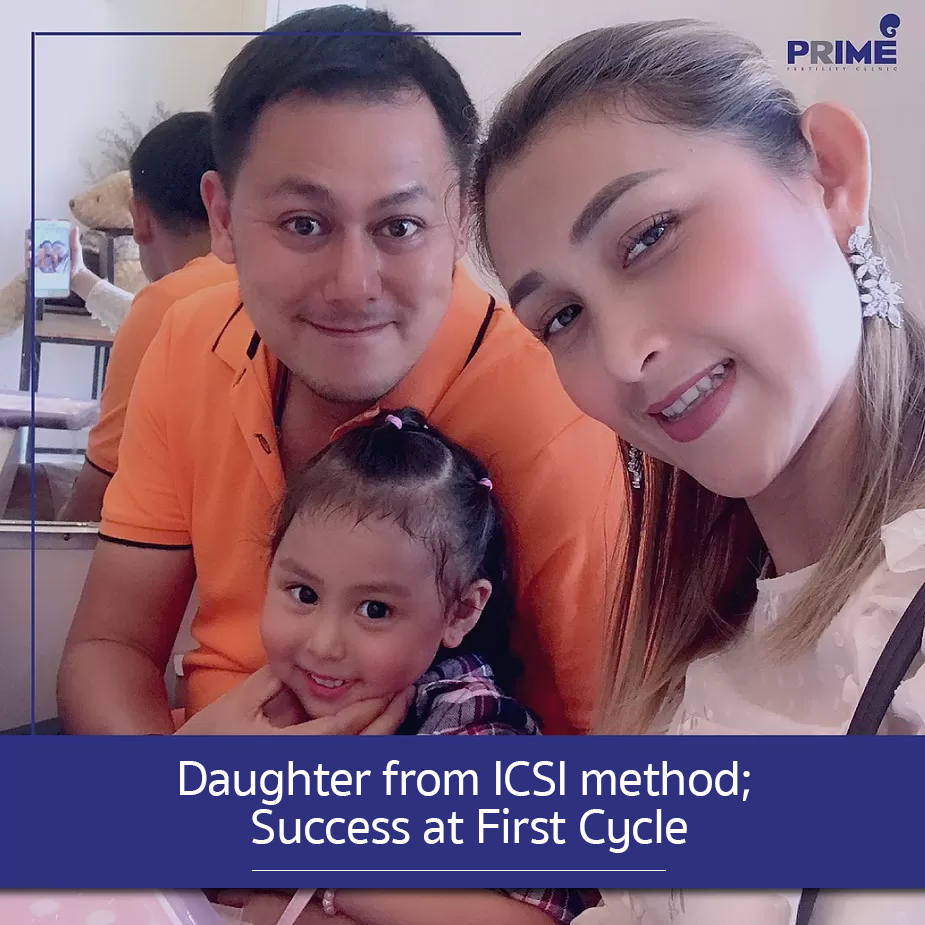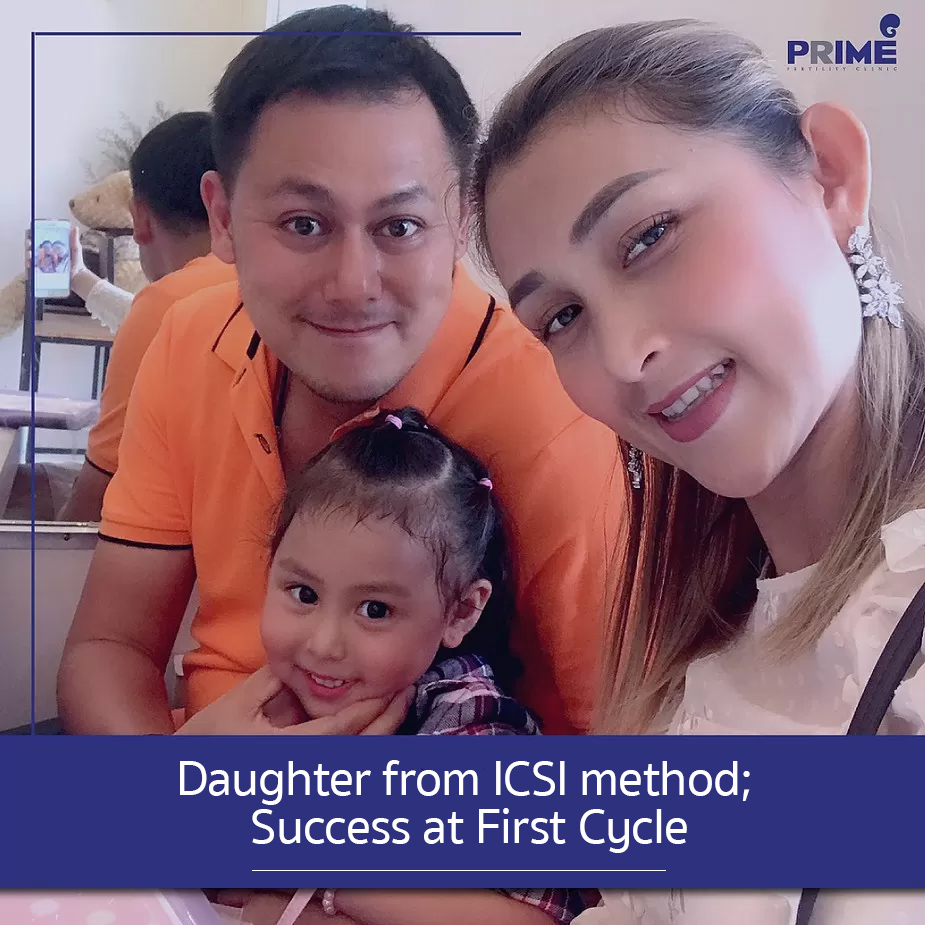 This is the true story from Khun Peung-Khamolrat Nomnop who has a daughter as she wished by ICSI and achieved at first cycle!
       After several years of being nervous and undergoing with maternity plan but still unsuccessful. Khun Peung-Khamolrat Nomnop together with her husband, Khun Ong-Ard Nomnop, decided to consult with Dr.Poonkiat Punyamitr, obstetrician & gynecologist infertility treatment specialist. They were not disappointed anymore. The couple got a little cute girl named "Chaokha-Saratchaya" to fulfill their family integrity after attending ICSI program only 1 cycle.
      "I and my husband have been married for 3 years but we still didn't have a child. So, we wished more about it and worried whether there were any problems from us or not. Then we decided to consult with infertility treatment specialist. We met Dr.Poonkiat and found out that the sperm count of my husband was below standard for a half. For me, there was nothing wrong except my menstrual cycle was taking longer times. Most people spend 28 days but mine is 33 days. Actually, doctor advised us to do ICSI as my husband had low sperm count and he was not quite healthy. However, we preferred to try with IUI then we did it for 1 cycle but we failed. After that we agreed to attend ICSI program as the doctor's recommendation."
Although people said 'ICSI program contains a lot of physical pain' but for Khun Peung; her ICSI treatment was not painful or frightful as people told.
      "Previously someone told me it hurts because of injection and egg pick up. But I could do it as I wanted to have a child. I'm OK with the injection. Luckily, I am not scared the needle as well. Whenever I'm sick, I prefer injection more than oral medication. Firstly, I wanted to be injected at home but nobody could do it for me especially we might mess up the instruction. Therefore, I had the nurse inject for me at home. Once I completed the injection dosage (daily practice for approximately 12 days) for ovarian stimulation. I obtained 8 ovums. On egg pick up day, I received the anesthesia but it doesn't hurt at all. Sleeping for a while then I was able to go home. When I finished egg pick up, my husband was collecting the sperm. Unfortunately, he had low sperm count and less quality than the examination day. I was not sure he might be serious. Eventually, he got it. We had only 4 well-growing embryos after combining 8 eggs with sperm. Then our embryos were stored in freezing before transfer to the uterine cavity.
       Prior to the embryo transfer, doctor used the hysteroscopy to check the readiness. After that I took a break for 3 months in order to make sure my uterine cavity was perfect for the embryo transfer. I did frozen embryo transfer which was suggested by doctor as it gives preferable result more than fresh round method."
When the body was ready, 3 months later, it's time for embryo transfer followed by pregnancy test by blood test in the second week after that.
      "Before the embryo transfer, my friend who was treated by another doctor told me that I should not do anything, just lied down, no movement. But Dr.Poonkiat said I was able to live as usual. Using staircases only one time a day. He needed me to be relaxed otherwise the embryo would not implant. That was great for me! I could stay at home regularly, no need to stick on the bed making me feel comfortable. Two weeks afterwards, we visited the doctor to get the result. We wanted to make sure so we didn't test by ourselves. We were waiting an hour for blood result. It was so excited. I remembered the nurse told me that I was pregnant. We were very happy as we failed for many years but finally, we had a child. That was very delightful and joyful."
Nine months after pregnancy, Khun Peung delivered a daughter, Nong Chaokha, a lovely girl who is the new member of "Nomnop" family. Now she is in kindergarten 1, very healthy and cheerful kid.
       "I had the antenatal care and childbirth with Dr.Poonkiat. During my pregnancy, everything is normal. Doctor took very good care of me. I was impressed his professional skill. He always gives me the good recommendation, clear and easy to understand. Especially, he is very nice doctor and friendly. Whenever we consult with him, we feel comfortable and relieve so much from the stress. That's why I convince every couple of my friends or relatives who need to have a child please visit Dr.Poonkiat. Definitely, they succeed like our couple. Significantly, they got success at first cycle as me. Now I am having my second child, 8 weeks pregnancy. First of all, we planned to do ICSI again but doctor needed my husband to retest the sperm. At this time, the result of sperm analysis showing good quality means my husband is normal. Possible cause is he quitted his routine job then being self-employed. In this way, he has less stress and more time to take care himself or relax. Making him to be healthier. So, doctor advised us to try with natural method because it's unnecessary to spend money. Truly, I am pregnant as he said. I very appreciate his sincerity. He tells the truth and never attract his patient with unreasonable hope. He informs the potential possibility but encourages them not to give up. Especially, he always mainly concerns about the patient's advantage. If someone asks me about the infertility treatment, I'm happy to give suggestion about what to do, where to go, which doctor to consult. Because I totally understand how disappointed it is. Sometimes I thought I was pregnant but actually I was not. It made me very upset and affected menstruation cycle. Causing me more difficult to conceive. Nowadays, if anyone succeeds after following my recommendation then I also congratulate them."
Apart from sharing the good story, Khun Peung also gives the suggestion for any couples until they succeed. This means the transmission of happiness and inspiration between families.
—–
Question about Infertility Treatment: Click Here 
Review Clip from Our Patients: Click Here 
#ICSI #IUI #IVF #eggfreezing #EmbryoFreezing #SpermFreezing #SemenAnalysis #Hysteroscopy #FET #PGT #PGD #NGS #PESA #TESA
#primefertilityclinic #primefertiltycenter #fertilityclinic #bangkokfertilityclinic #thailandfertilityclinic
1177, 22nd Floor, Pearl Bangkok Building, Phahonyothin Road, Phayathai, Phayathai,
Bangkok 10400